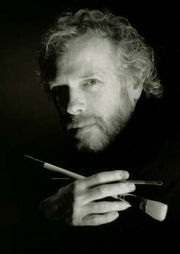 Drew Struzan (born 1947) is an American artist known for his more than 150 movie posters, which include all the films in the Indiana Jones, Back to the Future, *batteries not included, Rambo, and Star Wars film series. He has also painted album covers, collectibles, and book covers.
In 1977 fellow artist Charles White III, well known for his own airbrush prowess, had been hired by Lucas to create a poster design for the 1978 re-release of Star Wars. White, uncomfortable with portraiture, asked Struzan for his help on the project. As such, Struzan painted the human characters in oil paints and White focused on the ships, Darth Vader, C-3PO, and all the mechanical details of the poster art.
The unique poster design, popularly called the "Circus" poster, depicts what appears to be a torn posted bill on a plywood construction site wall. "It was necessity that invented that," Struzan explains. "They found out there wasn't enough room for the typography and the billing block they had left in the design. What can we do to make more space on a poster that's already been printed? Let's pretend it's posted, then they can put the type below the actual poster. We painted Obi Wan down the side and stuff across the bottom to make it wider and deeper." Industrial Light & Magic original logo designed by Drew Struzan.
Throughout the '70s and '80s Struzan produced poster work for such films as Blade Runner, The Cannonball Run, the Police Academy series, Back to the Future, Coming To America, First Blood, Risky Business, D.C. Cab, Stroker Ace, *batteries not included, An American Tail, and The Goonies. By the 1980s, Struzan was producing approximately ten poster designs a year.
During this period, Struzan continued his association with Lucas by designing the original Industrial Light & Magic logo, and creating the associated one-sheet artwork for both the continuing Star Wars saga and the Indiana Jones series of films. In the process, Struzan's work became, in the public mind, the defining visual images representing those series. As such, he was also sought after to create new artwork for re-releases and reissues on video and DVD, book covers, theme-park rides and video game titles for those properties.