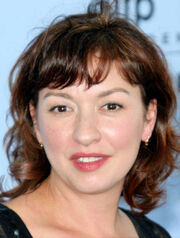 Elizabeth Peña (born September 23, 1961 – October 14, 2014) is an American actress and the daughter of a theater-company co-founder, who has also compiled experience as a television director in her own right.
Peña has appeared in movies such as La Bamba, Down and Out in Beverly Hills, Jacob's Ladder, Lone Star, *batteries not included, Vibes, and Rush Hour. In 2002, she starred in Showtime's Resurrection Blvd. as Tia Bibi Corrades in the episode "Justicia," which she also directed. During the next year, 2003, she appeared in and directed "It Was Fun While It Lasted," an episode of The Brothers Garcia. She also provided the voice of the character Mirage in Pixar's animated film The Incredibles. She guest starred in the 18th episode of Numb3rs, Season Two, as Sonya Benavides. Although she speaks Spanish, she does not dub her own voice for Spanish releases.
Peña married William Stephan Kibler in 1988 Their marriage later ended in divorce. In 1994, Peña married Hans Rolla, with whom she had two children.
Peña died on October 14, 2014 at Cedars-Sinai Medical Center in Los Angeles, California at the age of 55. The cause of death listed on her death certificate was cirrhosis of the liver due to alcohol, acute gastrointestinal bleeding, cardiogenic shock, and cardiopulmonary arrest.