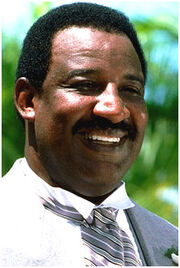 Frank McRae (born June 3, 1942) is an American film and television actor, and a former professional football player.
Among his acting roles are the history teacher, Mr. Teasdale, in Red Dawn, bank robber Reed Youngblood in Dillinger, meat-packing factory supervisor in Rocky II (1979), Hazel in Cannery Row, Spanky in The Wizard, James Bond's friend Sharkey in Licence to Kill (1989), inmate Eclipse in Lock Up, a shouting police captain in 48 Hrs. (a role he later parodied in Last Action Hero and Loaded Weapon 1), the train coachman in Tracks (1976), and former professional boxing champion Harry Noble in *batteries not included.
Ad blocker interference detected!
Wikia is a free-to-use site that makes money from advertising. We have a modified experience for viewers using ad blockers

Wikia is not accessible if you've made further modifications. Remove the custom ad blocker rule(s) and the page will load as expected.