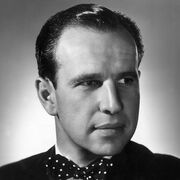 Hume Blake Cronyn, OC (July 18, 1911 – June 15, 2003) was a Canadian actor of stage and screen, who enjoyed a long career, often appearing professionally alongside his second wife, Jessica Tandy.
Cronyn married the actress Jessica Tandy in 1942, and appeared with her in many of their more memorable dramatic stage, film and TV outings, including The Green Years, The Seventh Cross, The Gin Game, Foxfire, *batteries not included, Cocoon and Cocoon: The Return.
Ad blocker interference detected!
Wikia is a free-to-use site that makes money from advertising. We have a modified experience for viewers using ad blockers

Wikia is not accessible if you've made further modifications. Remove the custom ad blocker rule(s) and the page will load as expected.