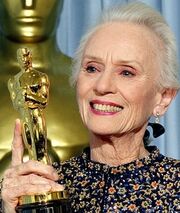 Jessie Alice "Jessica" Tandy (7 June 1909 – 11 September 1994) was a British-born stage and film actress, who spent most of her 67-year career in the United States. She acted in more than 100 stage productions and did more than 60 film and TV roles.
The beginning of the 1980s saw a resurgence in her film career, with character roles in The World According to Garp, Best Friends, Still of the Night (all 1982) and The Bostonians (1984). She and Cronyn were now working together more regularly on stage and television, including the films Cocoon (1985), *batteries not included (1987) and Cocoon: The Return (1988) and the Emmy Award winning television film Foxfire (1987, recreating her Tony winning Broadway role). However, it was her colourful performance in Driving Miss Daisy (1989), as an aging, stubborn Southern-Jewish matron, that earned her an Oscar.
Prior to moving to Connecticut, she lived with Cronyn for many years in nearby Pound Ridge, New York and they remained together until her death in 1994. In 1990, she was diagnosed with ovarian cancer and fought it for the next four years. Tandy also suffered from angina and glaucoma. Despite all this and her advancing age, she continued working. She passed away at home on 11 September 1994 in Easton, Connecticut at age 85.