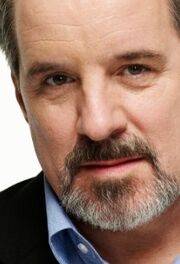 John Pankow (born February 18, 1957) is a veteran American actor. He is currently a series regular on the Showtime/BBC series "Episodes", playing Merc Lapidus, the volatile head of a major U.S. television network.
Biography
Edit
Early life
Edit
Pankow was born in St. Louis, Missouri, the son of Marion, a homemaker, and Wayne Pankow, who worked in magazine advertising sales.[1] He is the younger brother of trombonist James Pankow, a founding member of the legendary rock group Chicago. He grew up in Park Ridge, Illinois, and attended Maine South High School and later, Northeastern Illinois University.
Pankow, a veteran actor of stage, film and television, appeared for seven seasons as Ira Buchman on the NBC sitcom Mad About You.
Pankow is currently a series regular on the Showtime/BBC series Episodes playing American television executive Merc Lapidus.
Personal life
Edit
Pankow has been married to actress Kristine Sutherland (best known for playing Buffy's mother Joyce Summers on Buffy the Vampire Slayer) since 1985 and together they have a daughter.[2]
Filmography
Edit
The Chosen 1981
The Hunger 1983
To Live and Die in L.A. 1985
The Secret of My Success 1987
Monkey Shines 1988
Talk Radio 1988
Mortal Thoughts 1991
Year of the Gun 1991
A Stranger Among Us 1992
The Object of My Affection 1998
Life as a House 2001
Bride Wars 2009
The Extra Man 2010
Morning Glory 2010
Putzel 2012
New York stage
Edit
Merton of the Movies 1980
The Slab Boys 1980
Forty-Deuce 1981
Hunting Scenes From Lower Bavaria 1981
Amadeus 1981
Cloud Nine 1982
Jazz Poets at the Grotto 1982
Henry V 1984
The Iceman Cometh 1985
North Shore Fish 1987
Two Gentlemen of Verona 1987
Serious Money 1987
Italian American Reconciliation 1988
Aristocrats 1989
Ice Cream/Hot Fudge 1990
Scheherazade 1992
The Tempest 1995
Baby Anger 1997
Measure for Measure 2001
Barbra's Wedding 2003
Twelve Angry Men 2004
The Prime of Miss Jean Brodie 2006
Cymbeline 2007
Why Torture is Wrong and the People Who Love Them 2009
Keep Your Pantheon 2009
School 2009
Equivocation 2010
Taming of the Shrew 2012
Medieval Play 2012
Television series
Edit
The Doctors 1981-1982
The Days and Nights of Molly Dodd 1990-1991
Mad About You 1993-1999
Episodes (TV series)|Episodes 2011–present
References
Edit
Ad blocker interference detected!
Wikia is a free-to-use site that makes money from advertising. We have a modified experience for viewers using ad blockers

Wikia is not accessible if you've made further modifications. Remove the custom ad blocker rule(s) and the page will load as expected.