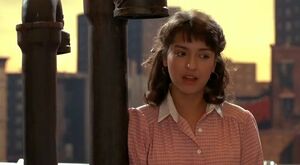 Marisa Esteval is a pregnant woman who patiently waits for the return of her boyfriend Hector, the father of her child. As the story progresses, she falls in love with artist and fellow boarder Mason (eventually choosing him over the negligent Hector), and appears to identify with both Faye and the female "Fix-It" on a mother-to-mother basis. She is a native Spanish speaker; when Frank fails to communicate with the "Fix-Its" in English, he suggests to Marisa why not see if they understand Spanish.
Ad blocker interference detected!
Wikia is a free-to-use site that makes money from advertising. We have a modified experience for viewers using ad blockers

Wikia is not accessible if you've made further modifications. Remove the custom ad blocker rule(s) and the page will load as expected.