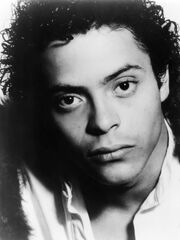 Michael Carmine (March 6, 1959 – October 14, 1989) was an American actor.
Born in Brooklyn New York to Puerto Rican Parents, he graduated from the High School of the Performing Arts at the age of sixteen, and went on to study his craft at the California Institute of the Arts in Valencia. He made his first appearance before the cameras as an extra in "Rollercoaster" and received his first speaking part on "Hill Street Blues" playing Ramos, which became a recurring role. A small part in Brian De Palma's "Scarface" was followed by the role of Snake in Michael Mann's television series "Miami Vice," which led to his first major role in Mann's "Band of the Hand," directed by Paul Michael Glaser.
Michael Carmine was also known for starring in the 1987 film "Batteries Not Included" alongside legendary actors Hume Cronyn and Jessica Tandy. In the movie, Carmine played a thug who was out to rid the residents of an apartment building scheduled to be demolished. He encountered space ships, who would rebuild the apartment home. During one scene of the movie, he rescues Tandy's character from certain death as the building was set on fire by an arsonist.
Aside from "Batteries Not Included", he also starred in the 1989 movie "Leviathan", starring alongside Ernie Hudson, Peter Weller, and Daniel Stern.
On October 14, 1989, Carmine died of heart failure at the age of 30.