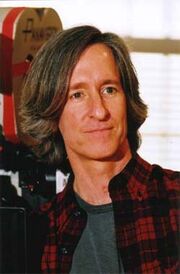 Mick Garris (born December 4, 1951) is an American filmmaker and screenwriter born in Santa Monica, California.
He is best known for his adaptations of Stephen King stories, such as directing the horror film Sleepwalkers starring Mädchen Amick and is the creator of the Showtime series Masters of Horror. Garris won a 1986 Edgar Award for an episode he wrote for the Steven Spielberg-produced television series Amazing Stories. Garris directed the FEARnet web series Post Mortem. He hosted the double feature re-release of The People Under the Stairs and The Serpent and The Rainbow on 20 February 2010 in the Aero Theatre in Santa Monica. He contributes to the web series Trailers From Hell. Garris was also the co-screenwriter and executive producer of Hocus Pocus. Garris most recently directed the miniseries adaption of Stephen King's novel Bag of Bones.
Ad blocker interference detected!
Wikia is a free-to-use site that makes money from advertising. We have a modified experience for viewers using ad blockers

Wikia is not accessible if you've made further modifications. Remove the custom ad blocker rule(s) and the page will load as expected.