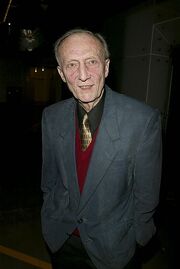 Thomas Ernest "Tom" Aldredge (February 28, 1928 – July 22, 2011) was an American television, film and stage actor.
Aldredge was born in Dayton, Ohio, the son of Lucienne Juliet (née Marcillat) and William Joseph Aldredge, a colonel in the United States Army Air Corps. He originally planned to become a lawyer and was a Pre-Law student at the University of Dayton in the late 1940s. In 1947 he decided to pursue a career as an actor after attending a performance of the original Broadway production of A Streetcar Named Desire.
Ad blocker interference detected!
Wikia is a free-to-use site that makes money from advertising. We have a modified experience for viewers using ad blockers

Wikia is not accessible if you've made further modifications. Remove the custom ad blocker rule(s) and the page will load as expected.